When you think of MLG Capital, you're likely considering us through the lens of alternative investments, specifically in private real estate. While this is true, and our core focus is on investing in deals with believable and achievable assumptions, we also have a heart for investing in our community.
One of our core philosophies is "making a difference, while making a living". Within this foundational principal, employees are encouraged to participate alongside our corporate philanthropic strategies. In our pursuit of this mission, we've implemented a unique opportunity for our family of investors to participate in our Making a Difference, or MAD, Initiative.
Launched in 2017, the MAD Initiative allows MLG investors to invest in our Private Funds, while making an impact at a charitable organization by donating a portion of their distributions to the charity. When the initiative first began, the selected organization was Lifesong for Orphans, a nonprofit in which our CEO, Tim Wallen is still an active board member.
As of October 2020, we have expanded this effort to include 5 additional organizations, all of which have a focus on youth education within the City of Milwaukee, Wisconsin: SecureFutures, St. Marcus School, Augustine Preparatory Academy, Milwaukee College Prep and Howard Fuller Collegiate Academy. Collectively, these organizations passionately served over 10,000 students and families within the metro-Milwaukee area in 2021.
How It Works
The MAD Initiative is a great option for investors who are charitably-inclined and are seeking to make a difference, but may not have funds they're quite ready to directly donate. Financial planning needs, like retirement or college savings for children, may impact this decision. With this initiative, however, investors can contribute to our private real estate funds and elect to donate distributions over 6% to a partnered organization.
As detailed in a previous blog, a typical investment in our Fund pays 100% of available distributions to investors in the following order1:
Investors accrue an 8% cumulative preferred return (annualized)
Investors receive 100% return of original capital invested
70/30 profit split of remaining cash flow distributions (70% to the investor, 30% to MLG)
With the MAD Initiative, distributions are amended and redirected to the charitable organization, where 100% of available distributions are paid in the following order:
Investors accrue an 6% cumulative preferred return (annualized)
Investors donate the remaining 2% of cumulative preferred return to the charitable organization
Investors receive 100% return of original capital invested
Of the 70/30 profit split:

70% of profits from remaining cash flow distributions are donated to the charitable organization on behalf of the investor

We have committed to donate 100% of our profit portion of cash flow distributions (30%) to the designated organization
As a firm, we have committed 10% of our latest fund, MLG Private Fund VI LLC, to the MAD Initiative, for a total of up to $40 million. If we raise the full amount, based on our projections, this can result in over $20 million to these organizations over the next several years. Talk about impact investing!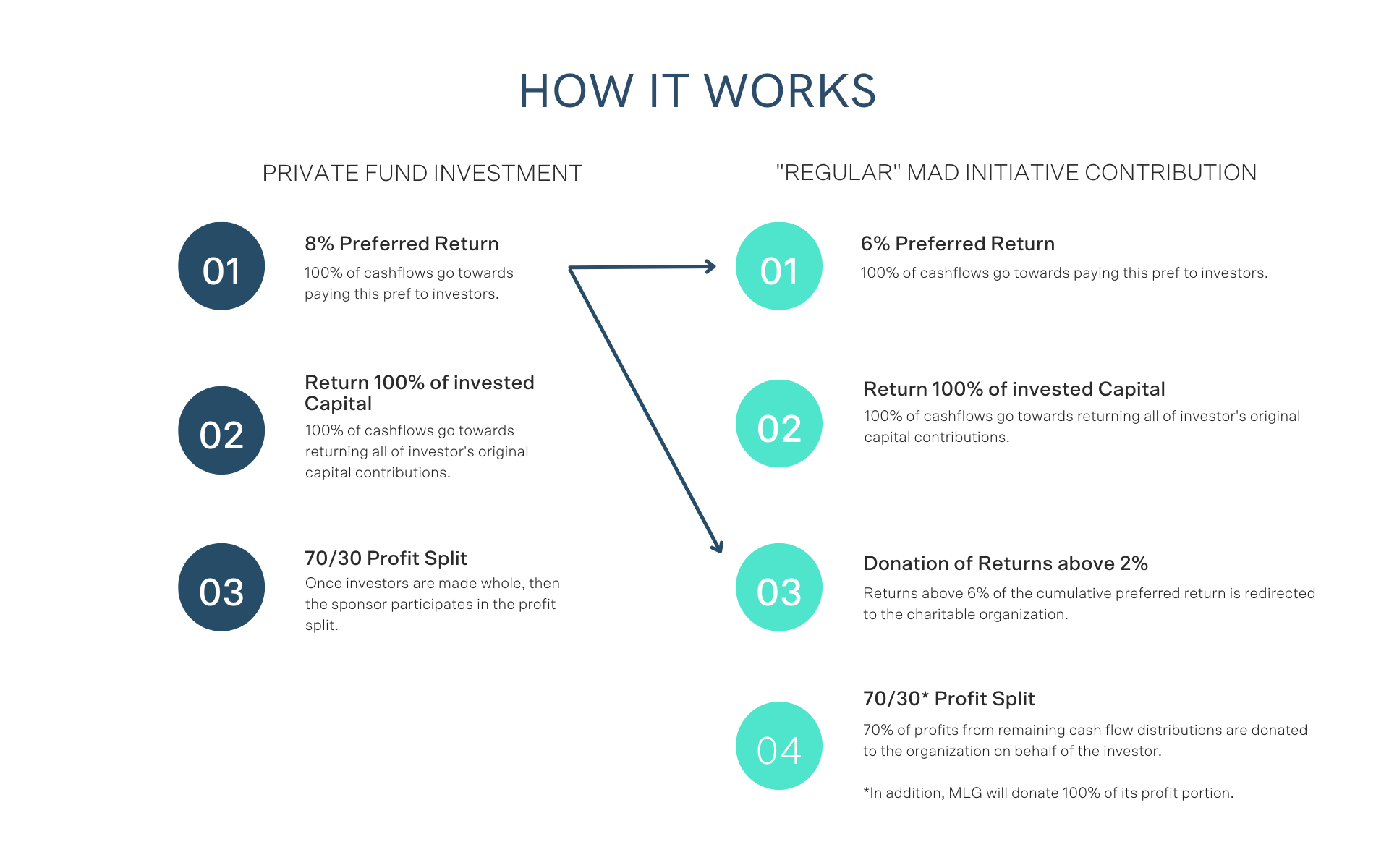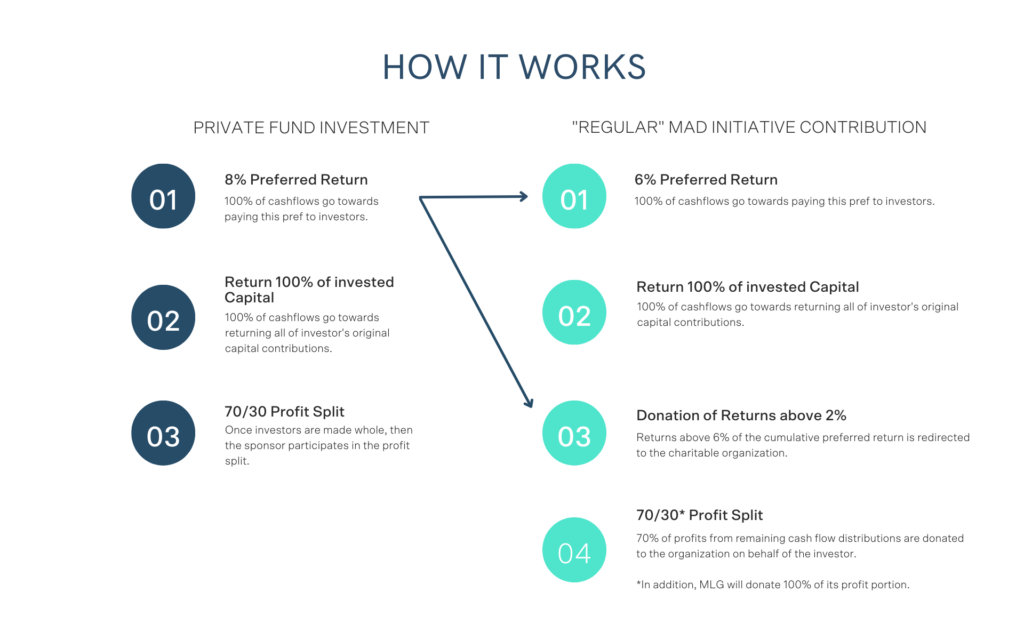 This is a high-level overview of how this program works, and the first in a series on the MAD Initiative. The next blog article explains both the real estate benefits and tax advantages of investing in the MAD Initiative.
If you'd like to learn more about the story of the MAD Initiative, you can read more here. If you'd like to discuss the MAD Initiative with someone from our team, connect with me.
Jade Hendricks is an AVP of Investor Relations at MLG Capital, with a background in Wealth Management and Wealth Education. She's a financial literacy advocate, gym enthusiast and lover of all things coffee. If you're an accredited investor, invest with us.
The Charity is the beneficiary of the investor/donor's investment in the applicable MLG Private Fund and subsequent donations under the MAD Initiative. This is not, and will not be, an offering of the Charity receiving the donation. The investor/donor's ability to use charitable contributions as deductions against other income is dependent upon applicable income tax laws as well as the investor/donor's personal tax situation. The investor/donor should consult with his, her or its own tax advisor regarding the income tax consequences of investing in the MLG Private Funds and the MAD Initiative. 1. Distributions are paid quarterly. Asset management fee of 1.25% on invested capital